Function: 
Reduce heater to increase density; 
Features:

Small power;
Few noise;
The best reference range to shrink (mm): Φ4-Φ10mm variety of specifications,length shorter than 1 meter(within the reference range, the life of the equipment will be longer)
Suitable tubes' material: copper, aluminum, iron, stainless steel etc.;
Suitable tube's shape: round;
Shrinking speed: uniform speed,non-uniform speed (according to the demand of customer).
Change roller or roll assemble can reduce different diameter;
Can match with our feeding machine to increase of efficiency;
Can match with our marking mechanism for mark your brand heaters.
Application: 
Round heater reduce, such as tubular heater.
Information need for order SG8A roll reducing machine:
Tube diameter before and after reduce, such as Φ8-6.6mm
Length before reduce
Electrical supply (for example, 1 phase in 220v , 3 phase in 380V, 50hz)
When need to reduce different diameters, need to change related rollers.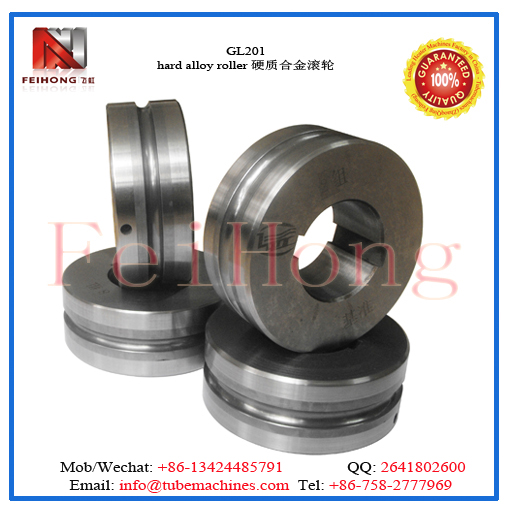 Reduced Heaters by SG reducing machine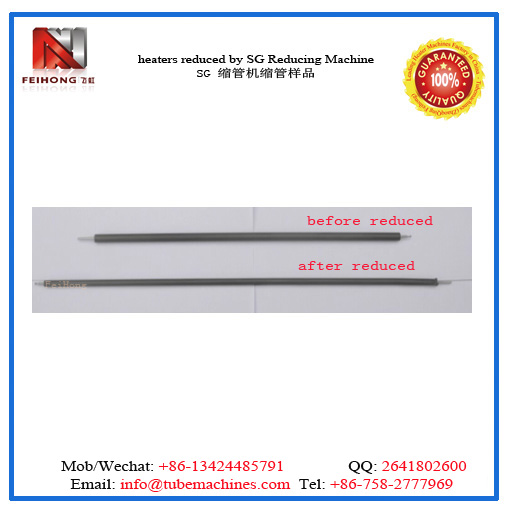 The Roll-reducing machine is composed of eight pairs of rolling wheel at 90°angles. Each unit of rolling spindles is directly driven by geared motor after passing from twin output gearbox and universal joint. Rolls are reduced gradually along a circumference direction to its axle and are done when pulled out from the straightener. Such procedure is widely used in the world currently, through which the rolls are sure to have smooth surface, fine roundness and uniformly stretched heating wires within the component. SG8A Roll-reducing Machine has high production efficiency, which reduces roll at 18m/min.Lubricating device is alternative for the roll while being reduced.