Function:
Reduce heater to increase density;
Features:
Large power, single power can be 1.1kw,1.5kw,2.2kw according to order;
Large torque, large power, more suitable for high density tubes, large tubes and long tubes;
The best reference range to shrink (mm): Φ4-Φ25mm; length recommend shorter than 4 meters (within the reference range, the life of the equipment will be longer).
Suitable tubes' material: copper, aluminum, iron, stainless steel etc.;
Suitable tube's shape reduce: round, oblate, square shape;
Shrinking speed: uniform speed, non-uniform speed (according to the demand of customer).
Change roller or roll assemble can reduce different diameter;
Can match with our feeding machine to increase of efficiency;
Can match with our marking mechanism for mark your brand heaters.
Application:
Round heater reduce, such as tubular heater, cartridge heater, cable heater;
Oblate heater reduce, such as railway heater reduce, fryer heater;
Information need for order SG12B roll reducing machine:
Tube diameter before and after reduce, such as Φ14-12mm
Length before reduce
Electrical supply (for example, 1 phase in 220v , 3 phase in 380V, 50hz)
When need to reduce different diameters, need to change related rollers.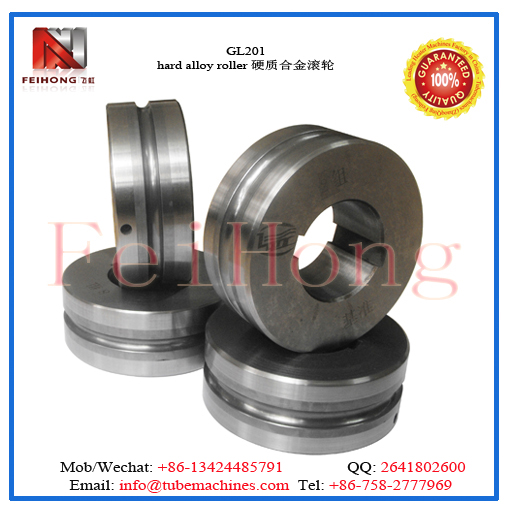 Reduced Heaters by SG reducing machine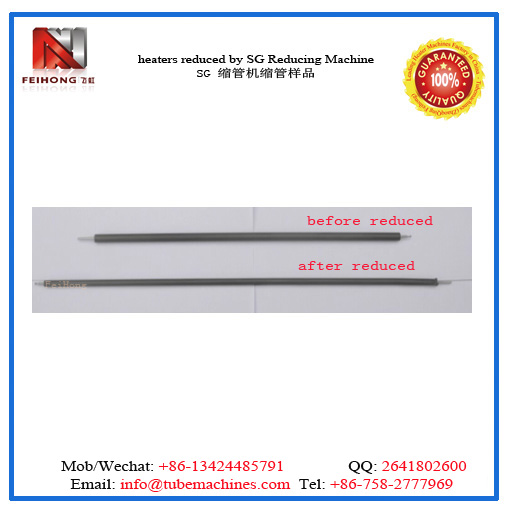 SG12B is a hot reducing machine for heater tubular design and manufacture by Tubemachines (FeiHong). Tubemachines design and make the pipe reducer machines according to the requirement of the heater factories.
Speed of the output shafts of the twelve groups of gear cases has difference, which makes drawing to the tubes while reducing. Length of the tubes will be markedly increased after reduced by this machine, so it can save some materials. Tubes after reduced with smooth surface, roundness<0.05mm (depend on the diameter, material and length). There are two materials of the roller wheel, one is the Cr12MOV, the other one is hard alloy. Method of instilling lubrication can be chosen and auto stamping mechanism can be installed to the machine. With strong power, the machine can reduce heating tubes and complex materials with diameter up to 1 inch (Φ25.4mm).