SG8B Roll-Reducing Machine

:
Introduction
Wearing Parts
Finished Product
Details
Function:

Reduce heater to increase density;

Features:
Large power, single power can be 1.1kw,1.5kw,2.2kw according to order;
Large torque, large power, more suitable for high density tubes, large tubes and long tubes;
The best reference range to shrink (mm): Φ6-Φ16mm; if Φ 8-12mm, recommend length within 2 meters, if smaller thanΦ8mm, can reduce 3 meters, if diameter larger thanΦ12mm, length recommend shorter than 2 meters (within the reference range, the life of the equipment will be longer).
Suitable tubes' material: copper, aluminum, iron, stainless steel etc.;
Suitable tube's shape: round tubes.
Shrinking speed: uniform speed, non-uniform speed (according to the demand of customer).
Change roller or roll assemble can reduce different diameter;
Can match with our feeding machine to increase of efficiency;
Can match with our marking mechanism for mark your brand heaters.

Application:
Round heater reduce, such as tubular heater, cartridge heater reduce.
Information need for order SG8B roll reducing machine:

Tube diameter before and after reduce, such as Φ8-6.6mm
Length before reduce
Electrical supply (for example, 1 phase in 220v , 3 phase in 380V, 50hz)
When need to reduce different diameters, need to change related rollers.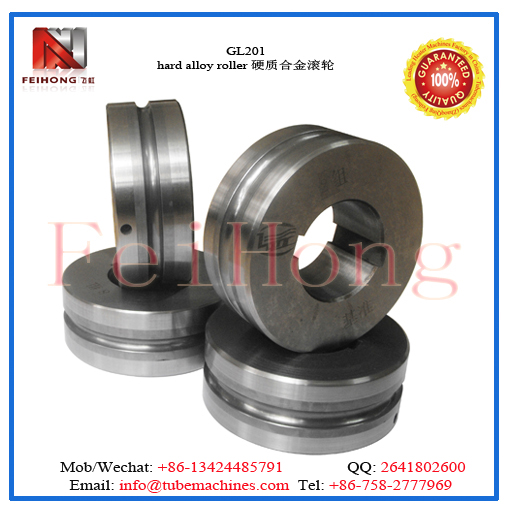 Reduced Heaters by SG reducing machine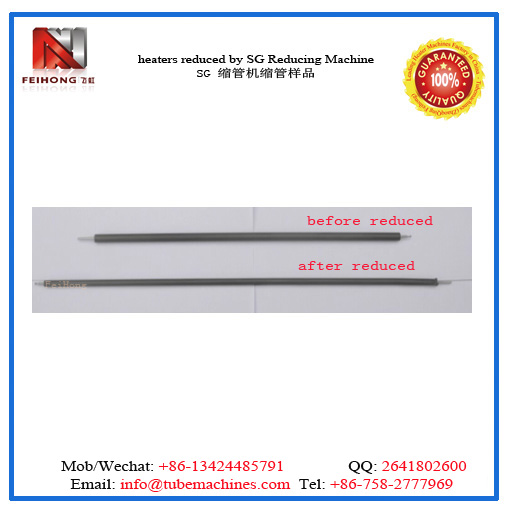 SG8B Roll-reducing Machine is as same as SG8A on its supporting bearing and structure. In order to improve torque output of the geared motor to satisfy needs for reducing large diameter component, the machine adopts specially designed cylindrical twin output gearbox. The motor is directly connected with reduction, which increases unit power to 1.1KW, gross power 9KW, output speed 70rmp and reduction 20m/min.